Fierce. Brutal. Fearless. That's a Viking.
But as Vikings stunt coordinator Richard Ryan discovered, forging mortal actors into that kind of primal onscreen presence for the epic History Channel series is no easy feat.
Consider this: During Vikings filming, actors were often challenged to heave axes across a battlefield or swing swords on horseback—for countless takes, in front of a moving camera, and often in grim weather. And Ryan, a veteran stunt and fight coordinator with films like Troy, The Dark Knight, and Sherlock Holmes: The Golden Compass under his belt, was eager to tackle that challenge head-on.
To prepare, Vikings actors underwent weeks of intense training: grueling cardio, strength, and skills sessions to develop ironclad frames that would make even Thor proud. Here's how they did it.
Breaking in the actors
While every actor is different, getting a fresh-faced Viking battle-ready usually takes between three and four weeks. Before an actor steps anywhere near the camera, they're given a fitness test to make sure that they have "enough coordination and stamina to get themselves through a 10- or 12-hour shooting day performing fights," says Ryan.
To do this, Ryan will put them through some cardio work and coordination drills, so the team can get a sense of how they move. Then they'll pick up a sword or an axe and practice some defensive moves. They'll throw a bit of strength training in there, as well, but it's less "lifting-iron strength," Ryan says, and "more everyday-work strength."
Even though the majority of the actors come to the show "fairly fit," he adds, "usually they run out of puff within 15, 20 minutes." Whenever someone was in worse shape than that, Ryan sent the slacker to Vikings stunt performer Lee McDermott.
To bring them up to speed, McDermott put them through HIIT training: "intense, short bursts of work" to make their bodies as functional as possible," he says. This can include anything from bodyweight and mat work to circuits, TRX, and sledgehammer drills. "The more we can confuse their body system with high-intensity, short-interval stuff, the better prepared they'll be to last through an entire shoot day," McDermott says.
How to forge Viking strength
Once Ryan and McDermott get a feel for each actor's fitness and skill level, they'll bring the actors into the "training shed"—a bare-bones space perfectly suited for forging Viking strength—for sessions about four times per week.
On an average day, they'll start with a warm-up of jumping rope, sprints, shuttle runs, and bear crawls going the full length of a 30′ mat and back. Then, to build working strength, they'll do a "lot of pullups, chinups, and pushups," Ryan says, before moving on to circuit and cardio training.
The Vikings stunt team also makes sure to individualize each actor's training depending upon their character's combat style. With Jordan Smith (who plays Ubbe, the oldest son of Ragnar Lothbrok and his second wife, Aslaug), "we did a lot of pad work with him, as well as a lot of boxing training," says Ryan.
With the raw strength foundation complete, the actors advanced to weapons training.
Learning how to wield an axe—without keeling over
Few actors arrive on set with formidable axe-wielding skills. It's up to Ryan to teach them—and fast.
To capture the savage, visceral battle scenes in Vikings, Ryan has his actors first start by merely picking up a shield and a sword or axe. And even though the cinematic axes are lightweight, because they're designed for film, they're still heavy enough for a total-body workout—but only if you use it wisely.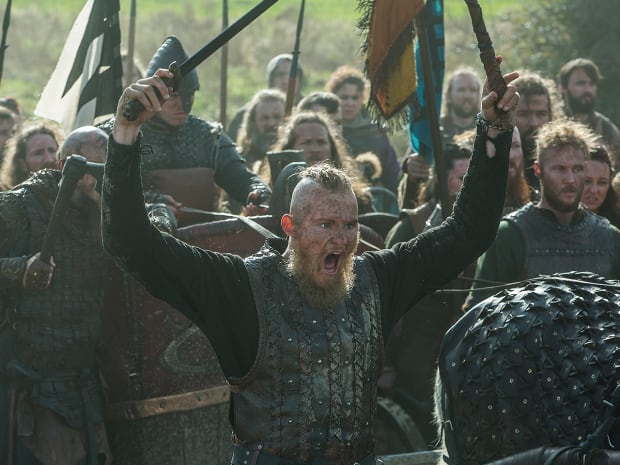 Jonathan Hession
"As much as anything, it has to do with you using your core to move the weapon around," Ryan says. "If you're just using your arm [to hold the shield], your shoulders are gonna give up, so you need to use your legs and center…to support where you're moving the shield and the weapon." Core and lower-body strength become especially crucial when dealing with some of the larger Danish axes—some of which can be up to 4′ long.
Still, there's more to fighting like a Viking than just swinging an axe—without accidentally hacking off an arm or a leg. And that, Ryan explains, has to do with style.
As he was developing the battle choreography, Ryan pointed out that historical Vikings likely had "an earthier and slightly stronger style" than the English or Saxon soldiers they'd battle on raids, Ryan says. "That's one of the things we try and go for—to keep [Viking combat] fairly raw and untarnished, with an unfinished look."
The sons of Ragnar
Like their father, the sons of Ragnar Lothbrok—Bjorn Ironside, Ivar the Boneless, Sigurd Snake in the Eye, Ubbe, and Hvitserk—are tenacious warriors and fearless explorers with unyielding ambitions for power. All that character depth presented both a physical and psychological challenge for each of the actors.
A challenge they each defeated, according to the stunt coordinators—but not without putting in weeks of grueling work. "They've all put in the hours," Ryan said, "they've all worked really hard to have improved their skills."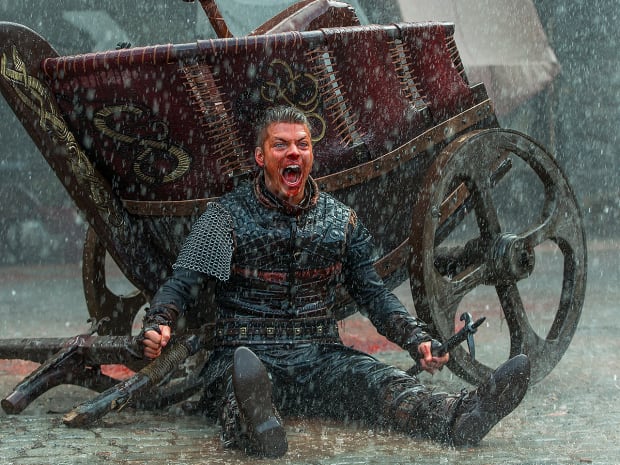 Jonathan Hession
For Jordan Smith (Ubbe) and Marco Ilsø (Hvitserk), "we had gotten a good amount of training in with them, and they could see the benefits in what was on screen," Ryan says. Even Alex Høgh Andersen, whose aptly-named character, Ivar the Boneless, doesn't have any use of his legs, had to put in weeks of training to build enough upper-body strength to withstand take after take of crawling on muddy ground.
Meet the 'Warrior Bishop'
Fans caught up to the Season 4 finale know that an entirely new character, a warrior the likes of which this show has not yet seen, is poised to dive right into the epic world.
Enter: Bishop Heahmund.
Played by Jonathan Rhys Meyers (who also starred as King Henry VIII on The Tudors), Heahmund is a zealous Christian with the sole mission of killing every single living pagan.
He'll be a pivotal character in Season 5, and, according to Ryan, his fighting style is one you'll want to pay attention to. With Heahmund, "there's something slightly more refined than the sort of brutality" you might normally find from other characters, says Ryan. There's "fluidity" and a "sense of meditation within movement" that stems from his deeply religious background—he's almost like "a samurai" in the way that he approaches battle.
Vikings Season 5 premieres on the History Channel on November 29.